Description
THE CHANNEL STRIP

All 12 inputs include a channel fader and mute button. The eight mono inputs also include single-knob compression and gain control. Record or playback individual channels with the "Rec/Play" button. Use the "Select" button to apply Channel Strip settings (EQ and panning controls, and "EFX Return" settings) to the selected channel.

EASY EQ CONTROL

The L-12 provides a smooth 3-band mid-parametric EQ and a low cut function for each input channel.

PLENTY OF INPUTS

The L-12's combo inputs support XLR or 1/4-inch connections. Channels 1 and 2 offer Hi-Z inputs for connecting an electric guitar or bass. Channels 9/10 and 11/12 have TS line connectivity for keyboards and other audio devices, as well as RCA inputs.

NAVIGATION AND DISPLAY

LiveTrak's bright, backlit LCD screen and encoder knob let you access an intuitive menu system to create new projects, recall previous projects, and customize your recorder settings.

16 ONBOARD EFFECTS

The L-12 offers 16 built-in effects with fully adjustable parameters. Choose from delay and reverb effects, then apply them to any channel.

CUSTOM SCENE SETTINGS

Save up to nine different scenes and recall your custom settings automatically. Each scene saves fader position, EQ settings, pan, mute, and more. The "Fader Mode" buttons allow you to design custom mixes for both the Master and monitor outs.

SLATE MIC AND METRONOME

Use the built-in slate mic to record comments or talk-back, and program the metronome to your desired tempo.

FLEXIBLE MONITORING OPTIONS

Five powered headphone outputs can send individual monitor sub mixes to headphones, in-ear monitors, or powered monitor speakers. Headphone output A also features two 1/4″ outputs for connection to additional monitors. The main outputs feature XLR connectors to easily connect to your PA.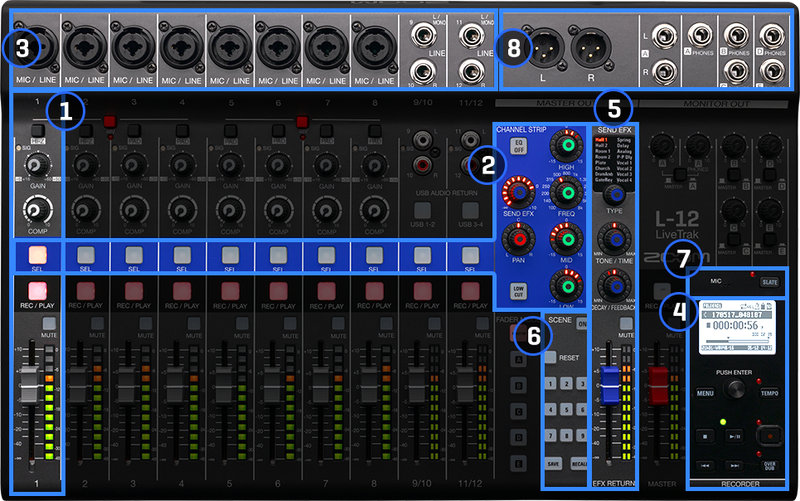 FEATURE LIST
12 discrete channels (8 mono plus 2 stereo) with XLR or 1/4-inch connectivity
14-track simultaneous recording, 12-track playback
14-in/4-out USB audio interface connectivity
5 powered headphone outputs, each with a customizable and saveable mix
Add backing/click tracks from your computer to your live mix and recording
RCA and TRS line inputs
48V phantom power (channels 1-4 and 5-8)
Hi-Z connectivity (channels 1 and 2)
26 dB pad (channels 3-8)
Built-in compression control (Channels 1-8)
Digital level meters -48 dB to -0 dB
Master mute button
Low-cut control
Stereo panning
Master and Monitor Outputs A-E
Scene saving function, up to 9 scenes saved at a time
16 built-in delay and reverb effects with adjustable parameters
Built-in slate mic
Class-compliant mode (for iOS compatibility)
SD card input
Built-in metronome
Automatic recording starting/stopping capability
Project protection
Import/export projects with USB 2.0 host port
Latency adjustment for A-to-D conversion
Compatible functions for ZOOM FS01 footswitch
SPECS
NUMBER OF INPUT AND OUTPUT CHANNELS
| | |
| --- | --- |
| INPUTS: | Mono (MIC/LINE): 8 Stereo (LINE): 2 |
| OUTPUTS: | MASTER OUT: 1    MONITOR OUT: 5 |
| | |
INPUTS
| | |
| --- | --- |
| MONO (MIC/LINE): | Type: XLR/TRS combo jacks (XLR: 2 HOT, TRS: TIP HOT) |
| | Input gain | PAD OFF: +16 – +60 dB, PAD ON: −10 – +34 dB, Hi-Z ON: +6 – +50 dB |
| | Input impedance | XLR: 3 kΩ, TRS: 10kΩ/1 MΩ (when Hi-Z ON) |
| | Maximum input level | PAD OFF: 0 dBu (at 0 dBFS), PAD ON: +26 dBu (at dBFS) |
| | Phantom Power | +48 V |
| STEREO (LINE): | Type: TS phone/RCA pin (unbalanced) jacks |
| | Maximum input level : +10 dBu |
| | |
| | |
| --- | --- |
| MASTER OUT: | Type: XLR jacks (balanced) |
| | Maximum output level: +14.5 dBu |
| | Output impedance: 100 Ω |
| MONITOR OUT A (TRS): | Type: TRS phone jacks (balanced) |
| | Maximum output Level: +14.5 dBu |
| | Output impedance: 100 Ω |
| MONITOR OUT A-E (PHONES): | Type: Standard Stereo phone jacks |
| | Maximum output level: 42 mW + 42 mW at 60 Ω |
| | Output impedance: 100 Ω |
| | |
BUSES
| | |
| --- | --- |
| MASTER: | 1 |
| MONITOR: | 5 |
| SEND EFX: | 1 |
| | |
CHANNEL STRIP
| | |
| --- | --- |
| COMP: | |
| LOW CUT: | 75 Hz, 12 dB/OCT |
| EQ: | HIGH: 10 kHz, ± 15 dB, shelving, MID: 100 Hz-8 kHz, ±15 dB, peaking, LOW: 100 Hz, ± 15 dB, shelving |
| | |
SEND EFFECTS
| | |
| --- | --- |
| 16 TYPES: | Hall 1 & 2 (reverb) |
| | Room 1 & 2(reverb) |
| | Plate (reverb) |
| | Church (reverb) |
| | DrumAmb (reverb) |
| | GateRev (reverb) |
| | Spring (reverb) |
| | Delay (delay) |
| | Analog (delay) |
| | P-P Dly (delay) |
| | Vocal 1-4 (delay + reverb) |
| | |
RECORDER
| | |
| --- | --- |
| MAXIMUM SIMULTANEOUS RECORDING TRACKS: | 14 at 44.1/48 kHz (12 channel + stereo mix). 12 at 96 kHz |
| MAXIMUM SIMULTANEOUS PLAYBACK TRACKS: | 12 |
| RECORDING FORMAT: | WAV 44.1/48/96 kHz, 16/24-bit, mono/stereo WAV format |
| RECORDING MEDIA: | 16 MB-2 GB SD cards, 4 GB-32 GB SDHC cards, 64 GB-512 GB SDXC cards |
| | |
AUDIO INTERFACE
| | |
| --- | --- |
| 44.1/48 KHZ: | Recording: 14 channels, Playback: 4 channels |
| BIT DEPTH: | 24-bit |
| INTERFACE: | USB 2.0 |
| | |
SYSTEM REQUIREMENTS FOR AUDIO INTERFACE MODE
| | |
| --- | --- |
| WINDOWS: | OS: Windows® 8.1 / 10 (32bit/64bit) CPU: Intel® Core i3 or faster*USB: USB 3.0/USB 2.0** * Operation is not guaranteed with CPUs from Atom, Celeron or Pentium series or CPUs made by AMD.** Only USB host controllers with Intel Chipsets are supported. Operation is not guaranteed when used with USB hubs or expansion cards. |
| MAC: | OS: macOS® 10.13 / 10.14 / 10.15 CPU: Intel® Core i3 or fasterUSB: USB 3.0/USB 2.0* * Operation is not guaranteed when used with USB hubs or expansion cards. |
| IPHONE/IPAD: | OS: iOS 8 / 9 / 10 * Apple Lightning-to-USB Camera Adapter required. |
| | |
CARD READER
| | |
| --- | --- |
| CLASS: | Mass storage, USB 2.0 High Speed |
| | |
USB HOST
| | |
| --- | --- |
| CLASS: | USB 2.0 High Speed |
| | |
FREQUENCY CHARACTERISTICS
| | |
| --- | --- |
| 44.1 KHZ: | -1.0 dB: 20 Hz – 20 kHz |
| 96 KHZ: | -3.0 dB: 20 Hz – 40 kHz |
| | |
EQUIVALENT INPUT NOISE
| | |
| --- | --- |
| ACTUAL MEASUREMENTS: | -128 dB EIN (IHF-A) with +60 dB/150 Ω input |
| | |
| | |
| --- | --- |
| DISPLAY: | LCD with backlight (128×64 resolution) |
| POWER SUPPLY: | ZOOM AD-19 AC adapter (DC12 V/2 A) |
| POWER CONSUMPTION: | 17W maximum |
| EXTERNAL DIMENSIONS: | 445 mm (W) x 282 mm (D) x 70.5 mm (H) 17.5" (W) x 11.1" (D) x 2.78" (H) |
| WEIGHT (MAIN UNIT ONLY): | 2.53 kg / 5.58 lbs |